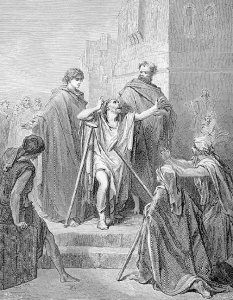 Acts 3:4-7
4 And Peter, fastening his eyes upon him with John, said, Look on us.
5 And he gave heed unto them, expecting to receive something of them.
6 Then Peter said, Silver and gold have I none; but such as I have give I thee: In the name of Jesus Christ of Nazareth rise up and walk.
7 And he took him by the right hand, and lifted him up: and immediately his feet and ankle bones received strength.
Here you will find technical help and tips for getting our software to run on your computer system.
Are you stuck and can't seem to figure out what to do next? Help is on the way. By nature computer games are designed to be challenging. But there is a fine line between challenging and frustrating.

If you think that you have crossed that line into frustration, there is no need to despair, just send us an e-mail indicating what level and situation you are facing and we will send you a hint to get you going on your way again.

It has come to our attention that some players are having a difficult time getting beyond Level 1 of the Orientation Game. Below is the solution, Do Not Scroll down unless you require this solution.

In the last room of this level, you are confronted with two soldiers. These are working in a similar way to how demons network. The first soldier in the white vest is passive and inactive as you interact with him. This is a common ploy that the enemy uses to get you off your guard. But on the other hand, the second soldier is a Drill Sergeant and the Level Boss. Unlike the first soldier, he is hyped up and relentless in his attacks. As a new recruit, if you try to engage him, you just won't be able to defeat him.

To bring this leave this level, the only solution is to quickly run pass the Level Boss  and head for the door behind him. He will be activated as you pass him, but he will not be able to inflict any serious damage before you reach the door which will bring the level to an end.

FPSC Game has stopped working message

Sooner or later, depending on the specifications of your system, the game may freeze and you will see this error message. Unfortunately, at this point any unsaved progress will be lost and you will have to restart the game.

In order to minimize this irritant, we recommend the following:

Save your progress often, especially after passing an intense battle;
Play the game on a clean boot state, where no other programs have been launched prior to starting the game; and
Address memory issues, where default settings cause the system's RAM to be restricted.

Fixing: Dark Basic Pro – Enhancement Expansion Pack Runtime Error 13

Download Warning Messages

Upon the successful download of the file, when attempting to install the game you may encounter a couple warning messages, firstly from your antivirus program as shown below (which is from Norton):

The conclusions from this warning is that the software is new and has very few users. You should click on the Trust Now link and proceed, hopefully as more people use it, this warning will disappear.

As you proceed, you will also get a warning message from Windows, which may look as follows:

This is a very common Security Warning message, you will need to click on the arrow keys to highlight the Run button then either click on it or press Enter.

Another dialog box may appear and you will need to click on "Run this program anyway" in order to proceed.

Rest assured, all of our software has been thoroughly checked using the latest version of Norton before it was uploaded. There is no malicious or harmful code in our software.

Each Game will be provided as a Windows Installer Package: (for example)

After downloading this file, you can make a back-up of it for safe keeping. It is strongly recommended that you backup copies of your games on a CD, DVD or Flash Drive. Once the file is double clicked, it will automatically install the Game unto your computer. The following pop-up window should appear:

Click Next>

Click Next>

Once the installation is complete, the following pop-up window will appear:

It is recommended that you view the readme file, it contains tips for using the Game, and the End User License Agreement (EULA).

And most of all, have some fun!

The minimum system requirements to run our software is as follows:

Operating System: Windows XP, Vista, 7, 8, 10


Processor (CPU): P4 2GHz

Memory (RAM): 2GB

Graphics Card: Direct X 9.0c compatible with 512MB memory

Hard Drive: 8 GB

Self-Rated: 15+

Contains:

Intense Violence

Blood and Gore

Depictions of Evil Spirits

Where applicable Parental Discretion is advised.

In order to get good Game performance on your  computer, the following tips are provided:

Close all other programs.

Run the software directly from your Hard Drive.

Do not simultaneous press different control keys during the game.

The video below also gives some more advanced tweaks that can be done if you are using Windows 7:

Updating Video Card Drivers

The Video Card in your computer is a critical item when it comes to running 3D Games. Even though it may have sufficient video memory, if the driver is outdated you may encounter problems. If the game seems to be sluggish or stutters, one possible solution would be to update the driver for your video card. The process to do this is outlined below:

Right-click on My Computer

Select Properties

Click on the Device Manager tab.

Click on : "Display Adapters". Make a note of the name of the Display Adapter that appears.

Right-click the display adapter and select "Update Driver Software".

If this fails, go directly to the Web site of the Video Card manufacturer, locate and download the latest driver.

Follow the instructions and Install the new driver on your system.

Re-start your computer if necessary.

Caution:

Only install a driver that is compatible with your Operation System.

Do not use a video driver that has been made for another Video Adapter.

Get professional help if you need it.

Microsoft's DirectX® is the core Windows® technology that drives high-speed multimedia and games on the PC. Older Windows XP machines may require that you update DirectX, since our Games required that you have installed on your system at least DirectX 9.0c . The Microsoft link below will assist you in updating DirectX.

While trying to run the Game you see the following, pop-up window:

Other variations of this message are:

d3dx9_31.dll not found
File d3dx9_31.dll not found
The file d3dx9_31.dll is missing
d3dx9_31.dll is missing. Replace d3dx9_31.dll and try again.
Missing component d3dx9_31.dll
This application has failed to start because d3dx9_31.dll could not be found.

All d3dx9_31.dll issues are caused in one way or another by a single issue – a problem with Microsoft DirectX®.

The d3dx9_31.dll file is one of many files contained in the DirectX software collection. Since DirectX is utilized by most Windows® based games and other advanced graphics programs, d3dx9_31.dll errors usually show up only when using these programs.

Important Note: Do NOT under any circumstances download the d3dx9_31.dll file individually from any "DLL download site". If you have done so already, remove it from wherever it was placed.

This problem is best resolved by updating DirectX® from Microsoft's Download Center.

During the update of DirectX, the window below will pop-up on your screen. Once all the components are installed the Game should now run without any further problems.