This is the most Comprehensive and Authoritative document on the Two Witnesses.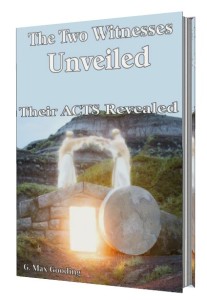 The Two Witnesses stand in the center of the Book of Revelation. Every true believer in the Lord Jesus Christ, must therefore now know the truth about who they really are. Over the years, many have guessed and speculated about who they are. Others have massaged their egos claiming to be them. But when the truth hits you it is like a shaft of light that pierces your soul, and you know, this is the truth!
In these last of the last days make sure to avail yourself of the best information. Then witness for yourself Bible Prophecy as it unfolds with laser point precision. This is where the Holy Bible excels any other religious book ever written. Through the knowledge presented in this eBook you will greatly increase your understanding of the role of the Church in these end times as well as the role of false religion.
This is the most comprehensive eBook available on the Two Witnesses of the Book of Revelation. Included alongside very detailed explanations are numerous pictures, charts, diagrams, maps, tables and Biblical references. The heathen has been carefully plotting world domination. Their key pieces are being quietly put into place, and they are awaiting the dragon to take his position over them and then to enslave mankind. Make sure that you are not found wanting, because God's people are destroyed for a lack knowledge.
CRITICAL END-TIME INFORMATION INSIDE
The identities and locations of the Two Witnesses are fully revealed
Their 1260 day Prophecy is fully explained with starting and finishing dates provided
All their other messages are documented and explained
Olive Tree and Candlestick symbolism covered
The meaning of death and recovery covered along with its implications
All the figurative language is fully revealed
How their last prophecy ties into the 7 year tribulation period
How the Last Wave of the Holy Spirit will integrate with their last Prophecy
Everything is soundly based in the Scriptures of the Bible with numerous quotes
Includes: Maps, Charts, Diagrams, Pictures and Tables
Formatted for Letter Sized paper – for easy reading and printing
Regular price is US$10, shop now and save!
Only available for this low price on this website
This eBook over-delivers and everything that you will ever need to know about the Two Witnesses is covered, nothing is held back! All their ACTS are Revealed!
This is a 96 page PDF eBook written by G. Max Gooding, released 24 August 2014.