The Protocol Manual for the end-time Church is now available as an eBook!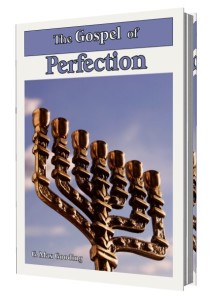 If you were born after the year 1948, then more than likely you will be alive to either witness or experience the most awesome event in all of human history. In Christian circles this event is commonly referred to as the Rapture. In this book, the history of the Church has been analyzed in detail and what has been discovered is an Advanced Mathematical Algorithm that governs the execution of the main restorative iterations of the Church or our Lord Jesus Christ. Additionally, new in depth interpretations of the Scriptures of the Bible are provided, including the solved 'Days of Noah' Encryption.
Just over one hundred years ago the Azusa Street Revival in Los Angeles ended. The last major restoration iteration for the Church has now begun. this final move will bring the Church to the point of Perfection. This book is the Protocol Manual for this final iteration. Therefore, this is a must read for anyone that has aspirations to qualify for the Rapture, and to become a part of the Bride of Christ.
CRITICAL END-TIME INFORMATION INSIDE
Learn how to assess your own spiritual maturity and development
3 Self Examination Gauges are provided to assist in own assessment
Learn the difference between operating in Gifts and Fruit bearing
Basic Milk Teachings are fully covered
The Times and Seasons of the Earth are fully explained
The 500 Spring Restorative Plan is revealed
The Anatomical Structure of the Body of Christ is presented
The Syncing of the Church to the Nation of Israel
The Mathematical Algorithm that governs the Church
Confirmation by the Days of Noah Encryption
The Escape Plan for the Church
Includes Pictures and Tables
Plus lots more
Formatted for Letter Sized paper – for easy reading and printing
Regular price is US$10, shop now and save!
Gospel of Perfection is a 123 page PDF eBook written by G. Max Gooding.
Average rating:
2 reviews
Oct 2, 2015
Perfection in Christ Is it Possible?
This book will challenge your mind and everytime you heard that no one can be perfect, even though the bible says the Bride will be spotless and white. Are we in the last seven years of perfection, why is 17 important, deeper truths about the 10 virgins and more are tackled in this book. Complemented by a website and this author will answer your email. This book will fill you with anticipation of the soon coming rapture. People get ready! (note: this review was based on the hard copy form of this product that is available from Amazon.com)
Oct 2, 2015
A Perfect and Powerful Book!
This book fills the bill if you are looking to get it right in this end time. This book contains a gold mine of factual, spiritual and historical insight, featuring in depth studies on ancient civilizations as well as modern society. It reveals the part each plays in the fulfillment of Bible Prophecy.It is a must read for the greater conditioning and preparation of the heart and mind in accordance with the Word of God and the perfecting of the Bride of our Lord Jesus Christ. (note: this review was based on the hard copy form of this product that is available from Amazon.com)